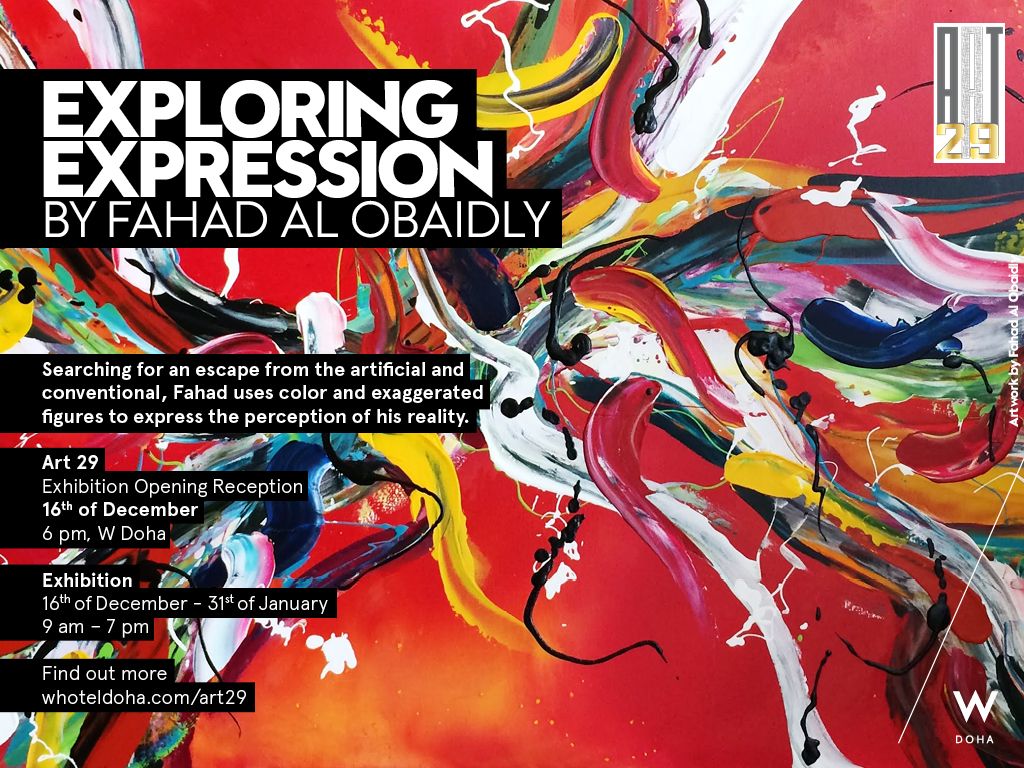 Art 29 presents "EXPLORING EXPRESSION" exhibition by Fahad Al Obaidly.
Searching for an escape from the artificial and conventional, Fahad uses color and exaggerated figures to express the perception of his reality. Fahad's artwork moved him away from his constraints to a world free from boundaries and full of infinite belonging.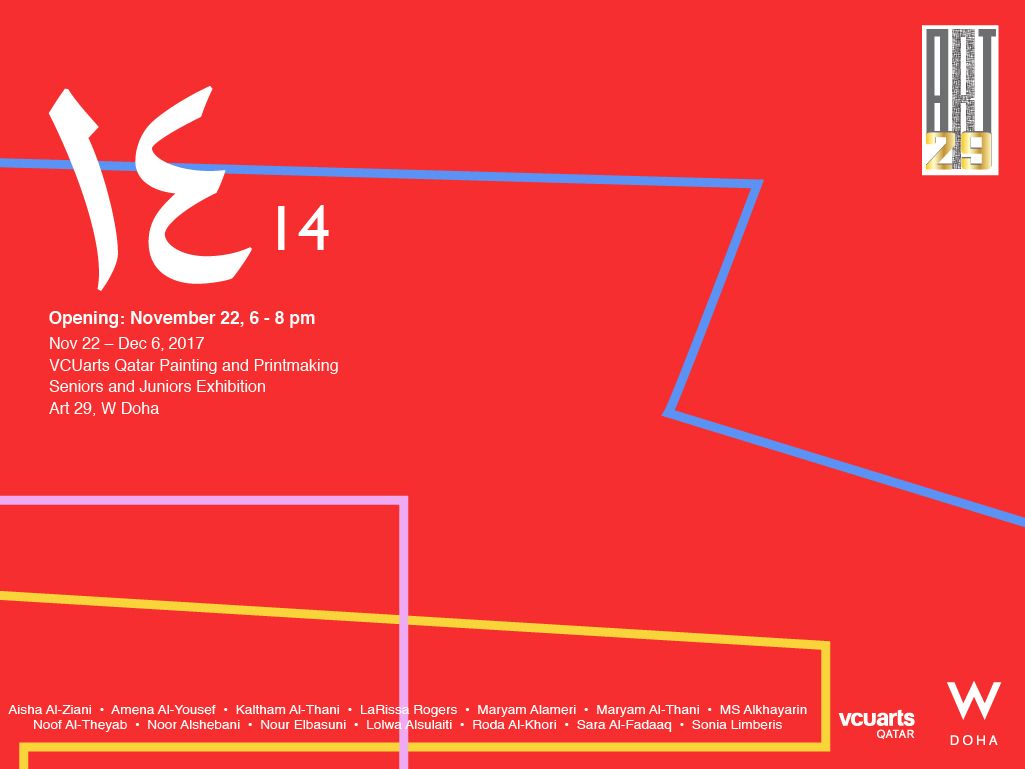 EXHIBITION 22nd OF NOVEMBER - 6th OF DECEMBER
Art 29 presents "14" exhibition by Virginia University in Qatar.
This exhibition is a collection of art works created by 14 artists from Virginia Commonwealth University in Qatar. These artists have different research directions and artistic styles. The work reflects individual identities and frames several years of research and creative practice. Each of the artists' conceptual and aesthetic backgrounds are represented in their work, and the contrast between practices manifests itself throughout the way visual language is used.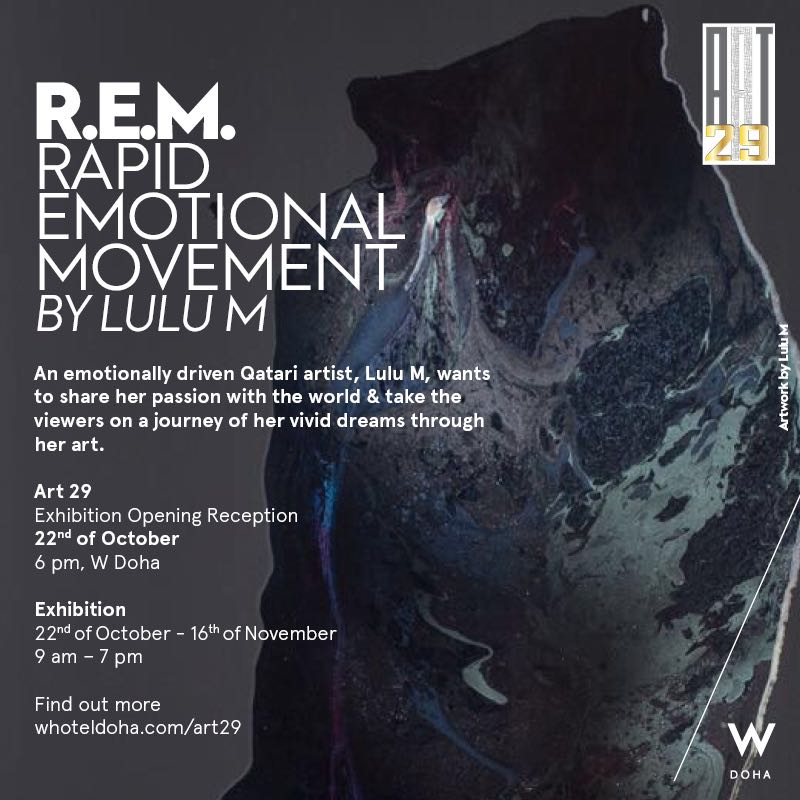 EXHIBITION 22nd OF OCTOBER - 16th OF NOVEMBER
An emotionally driven artist, Lulu M finds herself quite literally dreaming about her work. Without doubt, she will delve into the process and rhythm of creating her pieces. Guided, inspired or merely experimenting with new materials and techniques the results are astonishing.
8 October - 18 October 2017
The 'SeeMyDoha' photography competition is an offshoot of 'SeeMyCity' and has been adopted by Jaidah Automotive as the way forward to its annual photography contest.
25 May - 25 July 2017
ABDULWAHED AL-MAWLAWI
25 MAY-22 JUNE 2017
The exhibition showcases paintings by artist Abdulwahed Al-Mawlawi, works that portray local artistic expression spanning from the late 1990's to 2002. He mainly focused on recording and documenting local heritage and cultural traditions.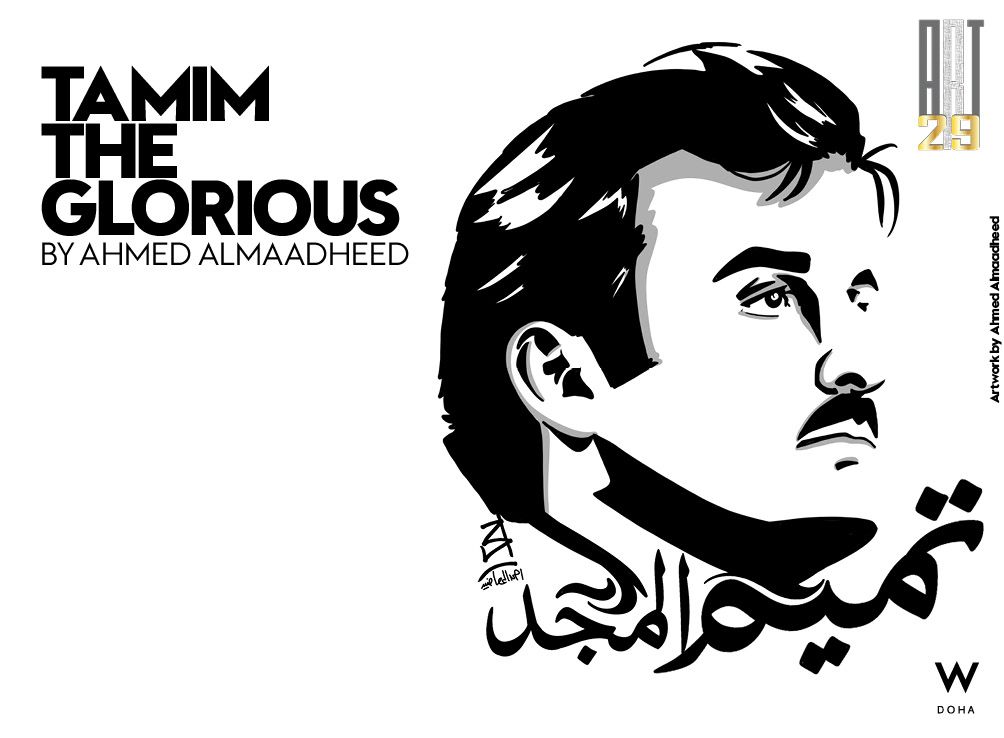 1 July - 30 September 2017
Ahmed Al Maadheed
25 APRIL-20 MAY 2017
A profound contemporary Qatari artist who has gaimed nationwide & international recognition for his artworks
'CURRENTS' BY EMERGEAST
25 APRIL-20 MAY 2017
For the first time in Doha, 'Currents' by EMERGEAST, will see an unprecedented all female exhibition by artists from all corners of the Middle East. The collection will highlight the flow of a cross-cultural dialogue with concrete parallels.

SHIFTING SPACES & FORGOTTEN WALLS
20 - 26 March 2017
"Shifting Spaces & Forgotten Walls" showcases photographs and videos that portray the myriad small businesses of Al Shagab Street in Qatar's atmospheric Old Al Rayyan Area. The initiative, which was spearheaded by a group of graphic design students and faculty from Virginia Commonwealth University in Qatar, was conceived in an attempt to engage with the wider community and build bridges between two diverse worlds.